This Setup is for dkim-patch >= 1.0 only. For older versions please see here.
Features
full DKIM support
different strengths DKIM keys up to 4096 bits
automatic update of domain-key records in the DNS
Updating the DKIM keys at any time (automatic update of the selectors and the DNS zone)
full DMARC support
Wizard for creating DMARC Records with verification of the values
Wizard for creating SPF-Records
Install
download the archive
cd /tmp
wget blog.schaal-24.de/files/dkim-latest_ispconfig3.tar.gz
tar xfz dkim-latest_ispconfig3.tar.gz
cd dkim-patch
or use git
git clone https://git.schaal-24.de/ispconfig/dkim.git
cd dkim
Install the patch with
php -q install.php
or follow the INSTALL.TXT
Install the patch at least on the Main-Server and Mail-Server . If you run your own DNS Server, adjust the database for ISPConfig on these servers, too: : ALTER TABLE `dns_rr` CHANGE `data` `data` TEXT NOT NULL DEFAULT '';
Adjust the server config
After installing the plugin the first time, you must define the path for the DKIM keys under "Server Config". The plugin stores the private and public key in this directory. For security-reasons this can´t be the root-path '/'.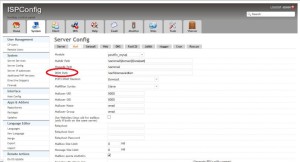 Create the keys for a mail domain
When creating or editing a mail domain the settings for DKIM are available in "DomainKeys Identified Mail (DKIM)". The keypair can be created by "Generate DKIM private key" or by inserting an existing private-key with cut & paste. The dns-record is displayed for information only and can not be changed. You can insert this values into an external dns.
If you change any DKIM-values (i.e. delimiter or key-pair) ISPConifig updates or creates the DNS-record as long as the corespondig DNS-Zone is active.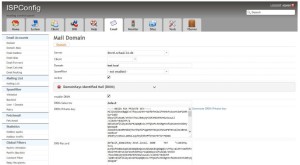 DNS-Wizard
By default ISPConfig creates a new domain with DKIM enabled. You can change this in the template.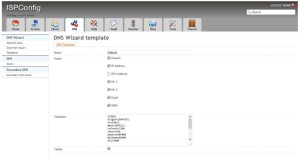 DNS-Record
You can create the DKIM-record easily by creating a new record called "DKIM". ISPConfig reads all data for the domain and adds the corresponding data.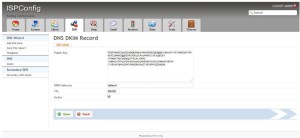 SPF-Record
Add a SPF-Record with the "SPF" Button.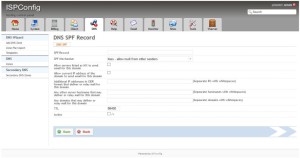 DMARC-Record
Add a DMARC-Record with the "DMARC" Button.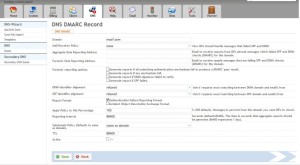 Resync
You can always resync your full DKIM-Settings with the resync-tool (it´s recommended to resync DKIM-Keys and DNS Records).
Import
If you have already defined DKIM-keys in your amavis-config, you can import them into ISPConfig with script/import_dkim.php. For more informations see the README.